Overall CFD Benefits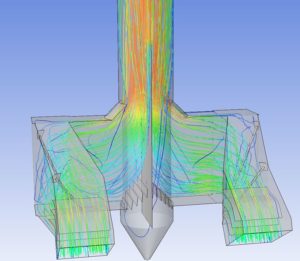 CFD software is a modeling tool for simulating the behavior of systems, processes, and equipment involving flow of gases and liquids, heat and mass transfer, chemical reactions, and related physical phenomena. For example, engineers use CFD to reduce unwanted pressure drops in pumps or fans to increase the aerodynamic lift of an airplane, ensure adequate cooling of electronic devices, reduce erosion rates, and reduce slag buildup rates in furnaces.
From a top-down perspective, there are solid business reasons to use CFD analysis. First, it provides insight into how a design performs, which is particularly important for devices or systems that are difficult to prototype and test. CFD can capture many phenomena, such as turbulence, combustion, boiling, de-icing, evaporation, solidification, and melting. Investigating some of these is cost prohibitive or simply impractical any other way.
CFD also provides designers with foresight because it can predict what will happen under a given set of circumstances. Specifically, the user provides a set of boundary conditions, and the software produces outcomes. CFD allows engineers to identify possible design flaws in the early stages of development, before more-costly physical prototyping and late-stage testing. It also helps to minimize the risk of expensive and potentially embarrassing product failures.
The foresight gained from CFD helps users to boost productivity because it can be used to improve designs, reduce design times and cost, meets environmental regulations, and ensure industry compliance.
Time-to-Market Benefits
New product designs start to incur costs from the very beginning of the development process and can only generate revenue when they make it to market. One way to get products out the door faster is to make use of simulation software. Using CFD upfront allows designers to analyze product behavior in real-world conditions, enabling them to make better decisions and avoid problems later. The time-to-market savings from CFD will vary with the application, but it is not uncommon for companies whose products involve complex fluid flows to compress their product development cycle by months or even years.
According to the Aberdeen Group, "Best-in-class companies successfully address the top pressure of shortened development schedules and, as a result, are 19 percent more likely than the industry average to release their products on time. They also reduced their development time by 28 percent. Their approaches have allowed them to obtain insight into product behavior so they can make better decisions to avoid finding problems later on, when they cause delays in a product release, as a solution is investigated." (Aberdeen Group, Getting Product Design Right the First Time with CFD, 2011.)
Consider the experience of U.S.-based Weil-McLain, a leader of space conditioning and water heating systems. When developing an advanced three-pass, horizontal-flue boiler, the company's engineers used Fluent CFD software to analyze fluid flow patterns and heat transfer of different boiler designs. By helping to speed up the tedious process of evaluating design iterations, the software cut more than six months from the company's typical time-to-market using conventional build-and-test methods. The new boiler even boosted efficiency to more than 86 percent, making it one of the most efficient units of its kind.
Reduce Physical Modeling & Testing Costs
In some applications, CFD and coupled simulations have replaced nearly all physical testing. In others, simulation acts as a gatekeeper to allow fewer design concepts to advance to the physical testing stage. Of course, any reduction in physical prototyping and testing will remove cost from the design and development process. Tests on lab-scale mixing equipment, for example, can cost hundreds of dollars per hour while testing full-scale automotive or aerospace models in wind tunnels can run thousands of dollars per hour.
Computer modeling and simulation are also helping researchers develop innovative respiratory drugs in a shorter amount of time. The cost of developing a respiratory therapy drug for asthma is estimated at more than $1 billion. The process can take up to 14 years and involve thousands of patients in clinical studies. At Belgium-based FluidDA, in-silico respiratory studies used Fluent for fluid dynamics simulation to generate accurate images of pulmonary functions, such as airway volume and resistance for individual patients. FluidDA reports that by using the software, they were able to cut six months from their development cycle.
In contrast, physical testing adds to total development costs. Whenever CFD is used to break the cycle of physical testing, time-to-market tends to improve too. That's exactly what happened with Weil-McLain's high-tech boiler. The company saved $300,000 on prototyping expenses while reducing time-to-market by more than six months.
AcoustiFLO similarly saved $150,000 while bringing a new fan concept to market more than six months faster than it would have without CFD.
Avoid Failure: Achieve Success
When a product failure occurs, the consequences can mount up: loss of profits, repair costs, fixed and variable operating costs wasted during downtime, and a myriad of other costs that reverberate throughout the business. The damage can be measured in dollars — sometimes millions — as well as in reputation.
For example, in chemical process equipment, flow fields can be very complex and difficult to measure. Troubleshooting or improving efficiency requires multiple data points, which are often unavailable. To reduce downtime and loss of revenue, CFD can be invaluable at virtually analyzing equipment at full scale. Fluid dynamics analysis provides an inside look into the function and operation, offering valuable information to equipment manufacturers, plant managers, production managers, process engineers, and research and development staff.
Consider the case of Brazilian power generation company Tractebel, which needed to decrease maintenance downtime by identifying the cause of wall erosion in a coal boiler. Addressing this problem was costly because of the materials involved. In addition, the boiler needed to be shut down while repairs were made. Tractebel engineers used CFX to simulate a coal burner and to identify contributing erosion factors such as wall shear stress. The fluid flow results enabled engineers to identify modifications that might be made to minimize wall erosion in the boiler, reducing associated costs.
Some things have not changed over the past few decades, time-to-market pressures continue to increase, and cost considerations continue to grow in importance. Simply put, CFD is a tool for compressing design and development cycles, which allows for rapid prototyping. Fortunately, there are software tools that are robust enough to take engineers inside their design environments, whether it is a coal burner, swimming pool, air conditioning unit, or a human's lungs.